Prices: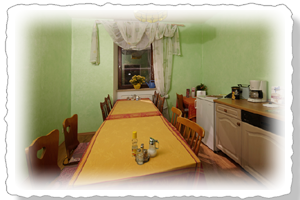 The breakfast-room and lounge
per person in ensuite double room
1 night
2 nights
4 nights and more
with continental breakfast
35-37,50 €
32,50-35 €
30-32,50 €
without breakfast
32-35 €
30-32 €
27-30 €
with special breakfast (buffet)
37-40 €
35-38 €
32-35 €
effective from 01.01. until 31.12.2017.
<
The breakfast we serve in our breakfastroom normaly between 08:00 - 10:00 Uhr. But you can also agree another time.
The arrival ist possible starting from 14:00, after previous arrangement earlier. And at your departure day we ask you to release the room since 11:00, after previous arrangement it is possible to leave the room later.
Taste our special breakfast: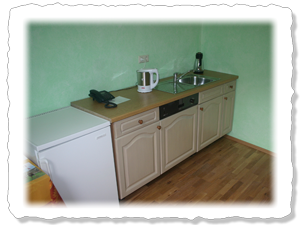 The fridge and the tea kitchen
Let you treating to some fine food.
You get exactly on which you have appetite.
You can eat how much you want.
Tell us your particular wishes the afternoon before.
Only EUR 5,- more and you will get this special offer.